What is MP4repair.org?
MP4repair.org is a web application that previews and repairs unplayable videos.
When you provide a damaged video to MP4repair.org, it automatically scans the file to detect any audio or video present inside it. Whenever possible, it also provides one or several previews, a price estimate, and access to your customized web repair app.
All you need is a supported browser, an Internet connection and a few minutes to preview your corrupt video and start repairing it.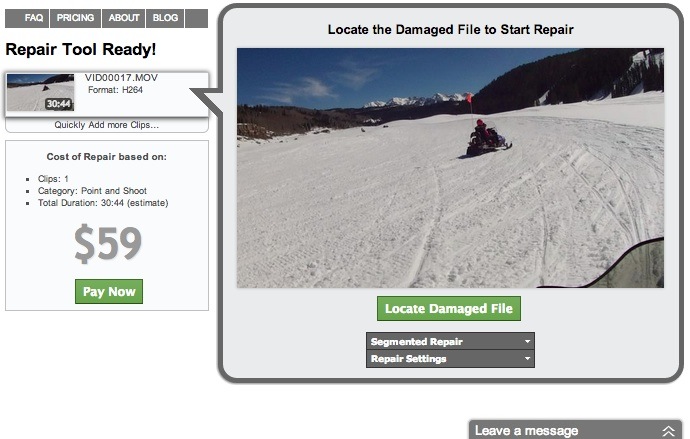 How long does it take to repair a video?
It depends on video duration, video format and on your Internet connection, but it probably takes less time than you would expect.
For example, a 10 minutes Canon EOS video will be repaired in less than one hour. This is an order of magnitude less than what it takes to just upload the same video to Vimeo, YouTube or DropBox!
What's required to use MP4repair.org?
All you need is an Internet connection and a supported browser to use our services.
Currently, we support recent versions of Microsoft EDGE, Firefox, Chrome and Safari. You may be able to log into MP4repair.org with others browsers, but experience may degrade, or some features will not work.

Windows 7 and above, Linux and Mac OS X are supported.
Is my data secure with MP4repair.org? What about Privacy?
We do our best to ensure the safe keeping of your data on MP4repair.org.
MP4repair.org has recently hardened its privacy and security standards to meet new EU data privacy and security laws (GDPR).
You can read our current Privacy Policy.
How much does MP4repair.org cost?
MP4repair.org starts at $15.
Depending on the video format and duration, MP4repair.org adjusts the repair cost.
If you have a large number of files to repair, a flat rate is applied.
Camera
or
Application
Voice
Mobile,
Point and Shoot
General
Professional
Base Price

of repair service

$15
$24
$49
$79
per minute

first 10 minutes

$2
$2.5
$5
$8
per minute

beyond 10 minutes

$1
$1
$2
$4
- or -
Format
JPEG, MPEG, AVCHD
DV, H.264, MPEG4 Video, Intermediate, HDV
XDCAM, ProRes, DVCPro, REDCODE, AVC Intra, Cineform, DNxHD
All Prices in USD, country-specific taxes not included
Example: 4 videos from a GoPro camera with total duration of 25 minutes
$24 for "Point and Shoot" base price
$25 for first 10 minutes
$15 for last 15 minutes
$64 in total for your 4 videos
Can I see my video before payment?
During repair, MP4repair.org provides a "Live Preview". Your entire video can be watched in short segments: Live Preview shows the video segments as they become available.
After repair is complete, you can also download short video previews (around 6 seconds each) to double-check footage at the beginning, middle and end of video.
Thanks to those free previews, you can take an informed purchase decision.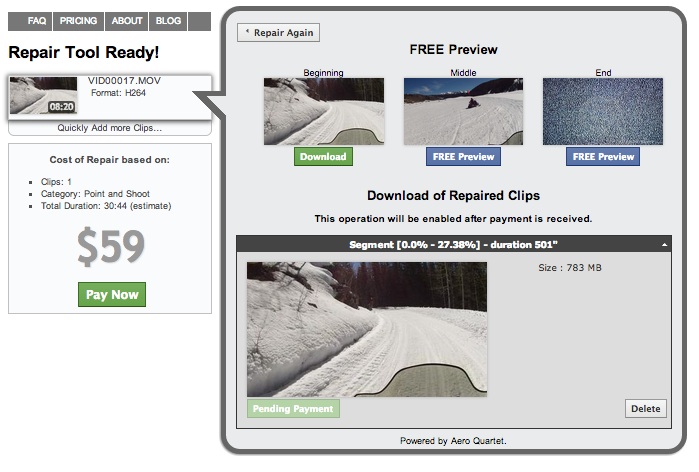 Who are you guys?
MP4repair.org was originally launched in January 2012.
MP4repair.org is updated every month to add support to new cameras, recording applications and video formats.
The core team consists of:

Benoît is the founder of the company and is in charge of development and user experience.

Javier is our support super master. He can solve your problems by starring obsessively at his screen, and by typing furiously on his keyboard. He remains first and foremost a gentleman.

Marcel is MP4repair.org's first line of defense. He will quickly and efficiently sort out all kind of problems.

and Grulli is the official company pet.