Despite MP4repair.org service is able to diagnose and repair almost any damaged video file, there are some times that an offline service would be a more comfortable option.
Especially when dealing with huge amount of damaged files, or when needing to repair large files recorded with heavy encoding formats, Aero Quartet's Treasured repair service would be the best choice.
For those who have some files to be repaired and unfortunately have no access to a Mac computer there's a way to achieve same results on your PC. Virtualization is the key to the success!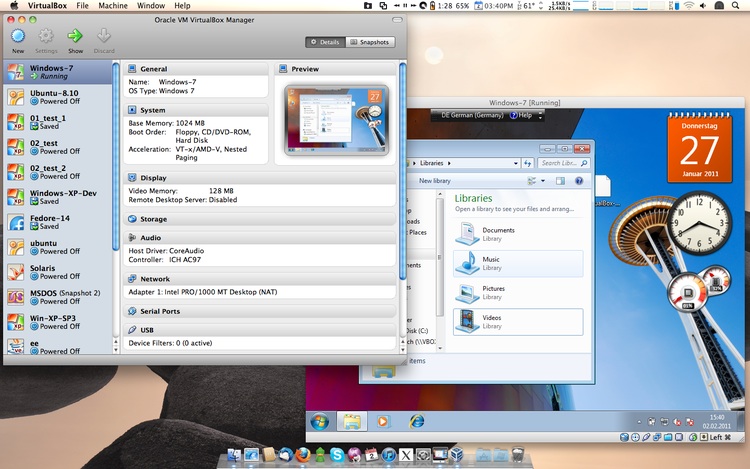 Instead of creating a Hackintosh, in essence, this method will let you run Mac OS X from inside a program window in Windows. Basically you will need a dual-core (two core) processor PC with at least 4 GB of RAM and some software (see below list).
VirtualBox : This virtualization suite is free, and though it doesn't offer official support for Mac OS X, it works pretty well to our purposes.
iAtkos ML2: The most popular Mountain Lion distribution that works with VirtualBox.
Multibeast 4.6.1 : You will need to use this patching tool to set up the Mountain Lion virtual machine after the initial installation.
A detailed step by step process can be easily followed in the guide posted by MacBreaker at their entry How to install OS X Mountain Lion in Virtualbox with iAtkos.
Assuming that all the set up is done and you already have your virtual Mac OS X environment up and running, we will concentrate in how to repair those files which format (XDCAM, ProRes, REDCODE, etc.) is not intended to be repaired using MP4repair.org service.
Basically the idea is to use same tools as if you were in a real Mac computer. That means you can use Treasured to diagnose your damaged file and even place a repair request from it. But keep in mind that here, the main goal is to repair your damaged files in your virtual environment, and once done, use them in your real workflow.
So, in case you did not already placed a repair request at MP4repair.org, then do it now using Treasured by clicking the

 button.
In a few minutes you will receive a preview of your damaged file repaired and a quote for the repair. Finally once confirmed, you will get the required Repair Kit that will repair the files.
Repairing them should be as easy as open the Repair Kit (by double clicking it as any other Mac OS application) and selecting you damaged files.
Troubleshooting
Typically issues found are due the lack of the appropriate codec installed. This is quite normal as you just set up a Vanilla virtual environment with no Video codec at all but the stock ones. So it's highly recommended that you take a careful look at Treasured's configuration pane to get an idea of the missing codecs (in below picture XDCAM codec should be installed).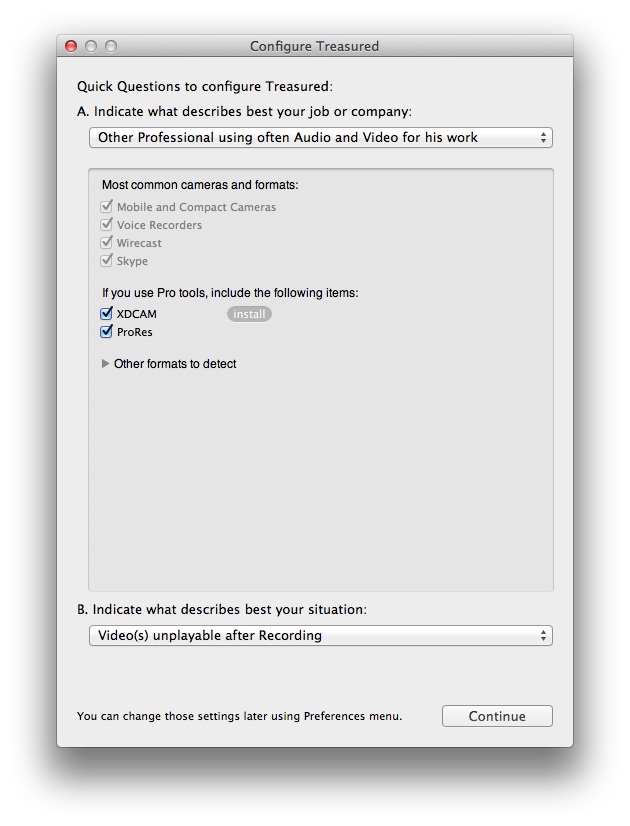 Alternatively you can take a look at the Movie Repair Guide to know how to proceed to install any missing codec.
Finally keep in mind that now you're running a virtual OS but the devices available on it still depend of the physical ones present in your PC. Therefore to use a card reader or a USB disk you would need to mount them inside the VirtualBox.
To do so just look for the  Devices list that are displayed and inside the USB Devices should appear the one you are looking for. Just click it and it will be mounted on your Mac desktop.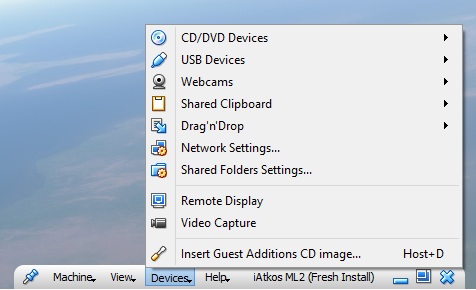 If you have any question or doubt during the whole process simply get in touch with our technicians at info@aeroquartet.com.